06 janvier 2010
This is it! In just 1 week, the trip begins! The plan is simple: 3 continents, 18 months.
Itinerary-
South America: Argentina, Bolivia, Peru, Ecuador, Costa Rica, Guatemala, Mexico (6 months)
Australia (6 months)
Asia : Philipines, Indonesia, Malaysia, Thailand, Cambodia, Vietnam, Laos, Burma, Nepal and India (6 months)
Budget –
We've calculated that we'll be spending approx. 25€ per day in South America and 15€ per day in Asia. We plan to not have any costs in Australia, as we hope to get the work&travel visa which will allow us to earn back any costs we'll have over there. We expect to pay approx. 2000€ in total for all the plane tickets.

Content of the backpack –
"Stuff": swiss knife, headlamp, games, small backpack, camera, memory cards, podometer, silicone bowls, cuttlery (all in one fork, knife and spoon), waterproof pouch for iPod, a tripod for the camera, a camera, a sleeping bag, hidden pouch for all important documents.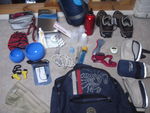 Clothes: couple of tshirts, 2 skirts, 1 pair of trousers, 2 pairs of shorts, 1 swimsuit, 2-3 sweaters, 1 pair of good walking shoes, 1 pair of sandals, 1 raincoat
Farmacy
Plane tickets -
Despite the round the world offers, we've decided that we'll buy our tickets as we go along. It will give us more flexibility. So far, all we've got is a one-way ticket to Argentina (Buenos Aires)
Admin -
New passport done, round-the-world insurance taken (AVI Assurance), we even have our work&travel visas for australi!
Health -
Two shots done today (typhus fever and tetanos). 1 more to go (Hepatitis A and B), to be done next week. Yellow fever already done 3 years ago for a trip to Thailand, so still valid for another 7 years.