15 avril 2010
After Chachapoyas, we headed to Yurimaguas, to finally reach the Amazon and go into the jungle.
Making our way from Chachapoyas to Yurimaguas ended up being much more complicated than planned because heavy rains caused a landslide on the roads. This meant that our bus which started its journey in Trujillo and that we were waiting for in Chachapoyas, was stuck until the road was cleared of all the rocks and mud... It took a total of 24 hours! Needless to say, after a 10 hour wait, we hopped into a colectivo to get to Yurimaguas. We're not usually pressed for time, but waiting around in a tiny village without any information as to when your bus may eventually arrive didn't sound like much fun.
So, Yurimaguas is the departure point to get to Iquitos by boat. Most people fly to Iquitos from Lima, muuuuch quicker and easier. But what a shame for the loss of adventure!
The boat to Iquitos is a big cargo boat which, obviously, carries both goods and people. It was a three story high boat. First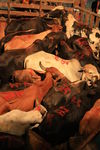 story, only cargo (including a 40 head cattle heard on the deck!), second story and third story for people. We were about 200-250 people on the boat. The stories reserved for people have about a total of 6 cabins with beds, the rest is just a big open space where everyone hangs their hammock. Food is included (congratulations to the chef who managed to cook in such large quantities very tasty meals), all you have to do is bring your plate and cutlery. So we bought our hammocks and we were ready for the adventure. The boat makes a lot of stops in little villages lost in the middle of nowhere, it's impressive to suddenly see in the middle of jungle little rooftops made of palm leaves and dozens of little children running out to wave hello.

We stopped off first in Lagunas. We decided to make our jungle trek from here, as it is just next to a national reserve. We went for a 4-day trip, which isn't very long considering that the deeper you go into the jungle, the more animals you see. But we were pretty lucky during the trip and saw a lot of animals: monkeys, sloths, crocodiles, parrots and a million other birds, dolphins, otters, etc...
We spent 4 days in a small canoe, not motor, just rowing. The 3 highlights of the trip were:
- going out on the boat during the night to look out for crocodiles, and in the end just enjoying the sound of the jungle at night (animals are MUCH louder during the night than during the day), while looking at the millions of stars in the sky
- our guide catching a crocodile of about 60 cm
- our guide catching a sloth. This is such a beautiful and peaceful animal! he was a bit scared at first, but then understood that we didn't mean him any harm and let us pet him.
After the trip, we hoped on the cargo boat again, to go to Iquitos. We spent another two nights on the boat before arriving to our destination. After all this running about, its time for a good rest, so the plan for the next couple of days is to try to do as little as possible :D
and of course, sort out our photos and put them on the Internet!