28 avril 2010
So from Tumbes in Peru, we crossed the border into Ecuador. It's pretty straightforward on the peruvian side, but on the Ecuadorian side, you walk into the first town and no immigration post. It's actually 2km away, you have to get a taxi to get there! so we went in taxi, and the immigration post is in the middle of nowhere next to a motorway, and people have to queue outside in the scorching hot sun... after an hour's wait in the heat, we got our stamp and hopped on a bus to Loja.
Not much to say about Loja, we slept in a hotel next to the bus station and took a bus the next morning to go to Vilcabamba.
Vilcabamba is a little town south of Loja. It is known for it's longevity. It is said that people here live much longer than the usual, apparently there's something in the water. I don't know about that, but in any case Vilcabamba is a really peacefull little town. Very pretty, surrounded by mountains. Very nice atmosphere in town. Many many foreigners live there. We met a guy who lived outside the town, up in the mountains. He left everything and settled here and bought himself a goat. He makes cheese from the milk and sells them... and apparently until now, it pays his bills!
After a few days resting in Vilcabamba we went to Guayaquil, on the coast. Guayaquil is the biggest city in Ecuador, it should in fact be the capital since it is also the main commercial town. In Guayaquil we had our first couchsurfing experience. We stayed in the house of a guy called Marwin. We stayed two nights at his place and we had a great time. The first evening we spent with him and some argentinian friends of him, drank wine... and the second night he cooked us dinner and then we watched movies on his amazing home cinema system. Sweet!
Guayaquil is a very nice town. 10 years ago it was a dump, literally. The mayor has really done an amazing job in turning the city around. The coast line has been completely redesigned, now there's a nice walk the whole way along the coast,
with small gardens, benches etc. The oldest neighborhood of Guayaquil used to be a favela, but was also completely rebuilt. It now ressembles La Boca in Buenos Aires. It's become the place to be in Guayaquil.
In the center, there is a park full of iguanas, huuuge iguanas. They're used to the public so they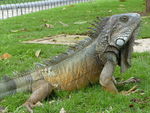 don't bite, though if you try to feed them, they climb up your leg! And in the courtyard of the university there are about 5-6 turtles. Huuuge turtles,
one of them loves to be pet and sticks her head out through the fence so that people will scratch her neck!