15 mai 2010
YAY! here I am in the USA! After so many years of planning with my sister...
I was a little nervous before taking the plane because I didn't have the address of the girl at whose place we were going to stay, and I had a transfer in Houston. I remember that when I went to the states with my parents when I was ten we waited for hours at immigration. When I got to the airport for the check-in I was told that I would have problems at immigration if I didn't have an address to give them, and that at Houston I would have to get my bag back and check it in again. I got pretty nervous about time then. For the address, after the check-in I went online and luckily my mum had sent me the full address. When I got to Houston I hurried to immigration and there I was so suprised to see a huge hall of immigration desks and a queue of only three people! So within 5 minutes I was at an immigration desk. I got a few questions about what I was planning on doing during my trip, and then I got my stamp... no problem! After that, to pick up my bag, it was already on the belt and 500 meters away I simply had to hand it over to the airline staff. So in the end I got to wait around in the airport for my next flight, for 3 hours!
First impressions in Houston... well, when I stepped out of the plane I saw airline staff waiting to come in with wheelchairs for some of the passengers... one of them was totally obese, and the others were speaking to each other in Spanish. Welcome to the USA! lol Then in the airport, gosh the foooood! the quantity and the size! there was a stall with only love-apples... normally love apples are only dipped in caramel right? these were covered in chocolate, cinammon, chocolate sprinkles, cream and anything else you can think of. Insane!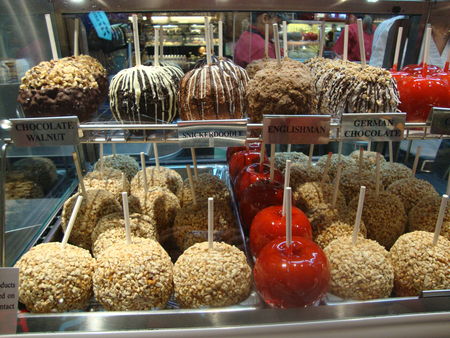 Anywho, I got to Los Angeles, waited 2 hours for my sister's flight to get in. Biiiiiiig hugs when we met. A friend of her's came to pick us up. We had diner with her and two friends of hers. For starters we had... CHEESE! SO GOOD to have some real cheese after four months in south america were the cheese only tastes like salt. After that, a good night's sleep.
and today, first full day in Los Angeles. We went "downtown". All the roads are so large here, the smallest roads have two lanes in each direction, there are no small streets, there is just so much space. And the architecture is totally heclectic. You have huge black towers next to red-brick buildings just three story high. And I have to say I love the road signs here, every time I see one I feel like I'm in a movie, I don't know why, I just have a thing with them!
Tonight, friday night, we'll go check out the LA night scene... update on tomorrow's post! For the moment we're just listening to music while siping good red wine from Napa Valley (that too feels good after all the bad bad wine I've had in south america!).
My sister has requested to get an invitation on the blog as a special guest, so expect an entry from her one of these days!