04 juin 2010
I've been quiet for a very long time!! i have a great excuse though! If you don't have a computer here, it's really hard to have access to the internet. There are a million free wifi zones, but it's byoc (bring your own computer). So anyways, now I have a netbook (yay) and pretty much access to the internet in any hotel or cafe.
Here's a quick recap of my trip in the USA with my sis:
- 3 days in LA
- 2 days in Las Vegas
- flight over the grand canyon
- 4 days of road trip up the coast to San Francisco
- 6 days in San Francisco
- 1 day of wine tasting in Napa
- 1 day in San Diego
- last few days in Santa Monica
So I've told you about LA (too big!) and Las Vegas (too much!). The road trip was great, it's really THE way to visit the states.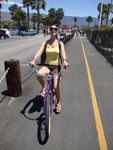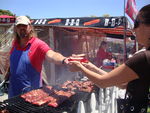 Everything is just so far apart, it's the only way to have the time to see as much as possible and to step away from the "usual tracks'. We went to Palmdale, Santa Barbara (where we rented bicycles), San Luis Obispo (got refused access to two bars because they didn't trust our IDs to be real, would only accept passports from foreigners), Carmel (super cute little town), Monterrey (clam chowder tasting at the Fisherman's wharf), San Juan Batista (Rib cook-off... yuuum), Santa Cruz.
San Francisco was much nicer than Los Angeles. Just as huge but much more inviting and cosy. Much
more alive. In Los Angeles there is barely anyone in the streets, everyone is in their car. But in San Francisco there actually are people walking in the streets! The houses are amazing, those tall, colorful houses. We went to visit Alcatraz. We went to a comedy club to see some stand up comedians (hilarious evening, loved it).
Napa wasn't like we expected. we expected to see vineyards everywhere but no. just another little town. but its a cute little town, with wine tasting at every corner. We tasted some good red wines, slept in a nice hotel (called "le bel abri", claiming to be a French country style inn... no comment!).
Back in San Francisco we went to see "Sex and the City 2". Not a very good movie, but funny and definitly better than the first. We went to a small carnaval in the mission neighborhood.
Then we went all the way down to San Diego. A whole day in a greyhound bus. Very tiring, not comfortable at all (peruvian buses were more comfortable!). Lunch break? 20 minutes at burger king, no choice. Since there's such a big queue you have to gobble up your burger, or eat in on the bus. When we arrived in San Diego the guy at the hostel told us greyhounds are normally packed with ex-convicts, cos when they leave prison they get a one-way greyhound ticket!
San Diego was nice, again quite big, but nice. We got a car again and went to the beach. Very nice, not too much wind (like during our first road trip). So we spent a day at the beach and go really sunburnt!! :(
Last couple of days were spent around Santa Barbara, Santa Monica... we saw some paparazzis waiting outside an Adidas store in Santa Monica, but don't know who they were waiting for. Was a very funny situation!
So here we are, last day in the USA. Tomorrow I'm flying to Costa Rica :)