13 juin 2010
So today's big activity of the day was Canopy. We don't usually do these gringo style activities during the trip, but this time we thought "what the heck, this looks quite fun". We were booked to go on the canopy tour at 10:30 am and at 9 o'clock it was pouring rain... so we were a little worried that the activity would be cancelled (ok I admit, I wanted to cancel cos I was scared we'd catch a cold and just plained scared of the activity...) but by 10:30 it had almost stopped raining, so we went off.
We were equipped with harness and pulleys:
And off we went for 2 hours of sliding on iron ropes accross the forest, over 80 meters above the ground. Totally not scary! And I mean that as well! Felt really safe the whole time!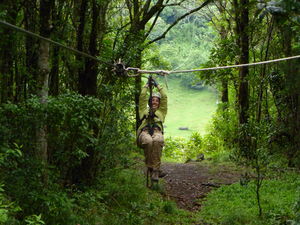 The only time I really was super scared and screamed my head off was during the "tarzan". The tarzan is a little different, cos you're basically attached to a rope and then jump off the edge and swing between the trees, like tarzan. SCARY!
Only one accident to report in the group... at one point, to get to the tarzan activity, we needed to go down a rope with a pulley system. The girl just before us had really long hair and the guide told her to watch it so that it wouldn't get stuck in the pulley system... but of course, she wasn't careful and it did! So she got stuck pretty much halfway down and pulling her either up or down just made it worse, judging from the way she screamed. So they ended up having to pull the rope out of the pulley system and bring it down completely so that she could arrive on land safely and then spend about 10 minutes untangling her. which meant we weren't able to go down the rope and pretty much had to walk down to the tarzan activity. No big deal but I have to admit I did find the girl a bit clueless and wished they'd have been forced to snip a bit of her precious hair off... I know, I know, evil!
So now we're back at the hostel, ready for a big nap to recover from all the adrenaline...