16 juin 2010
Yesterday we left Monteverde and made our way to Nosara. We had been told that we would have to take 4 different buses to get to our destination, so we were ready for a long, tiring day. However, after taking the first bus and getting off on the Panamerican highway, we met a guy who was going to Nicoya (the town just before Nosara) and who told us that a direct bus would pass within the next half hour. And sure enough, ten minutes later we were getting on a direct bus to Nosara. It pays off to speak the language! :D
This piece of luck also meant that we arrived a good 3 hours ahead of schedule. We don't normally have a schedule but in Nosara we're staying with my brother's girlfriend's aunt (Nadine). So we stopped at a little cafeteria, had lunch, watched the game (Italy-Paraguay 1-1, damn it!). Then we headed off towards their house, bags on our back. It was much further away and much hotter than we expected! Luckily, on the way we bump into Nadine who gave us a ride before speeding off to her various daily activities.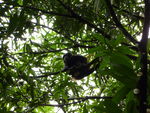 So thanks to Nadine and Innes we are staying in a beautiful house next to a river. Right at this moment I am sitting on the terrace, looking out for the monkeys in the trees! (Howler monkeys in the photo on the left)
This morning we went for a walk to see a local old man who is very sick. We got to meet a few locals and to see them in their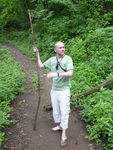 environment. We had a good hour's walk to get to the house. The track road was extremely muddy and that we had to cross the river by foot at one point,the water nearly came up to our waist! Note about the photo: Thomas isn't posing like a Roman emperor, it's just that he was being attacked by mosquitoes just when I was taking the photo). And that's the road that a good number of kids need to take every morning to get to school. We saw a pizote but he was too fast for us to get a picture of him. A Pizote is a kind of racoon.
And we also discovered a very cute animal whose name I can't remember. It's a wild animal that's protected. But apparently some high placed people find that it is a very fine dish so the locals here capture them and sell them at a good price. The one in the picture here below won't be eaten though, it's being kept as a house pet: (EDIT: it's called a tepiscuintle!)