27 juillet 2010
Helloooo!
I have very much left the blog to itself lately but it's only because access to the Internet has not been available.
So here's the full recap of the past two weeks:
- arrival of my mum in Guatemala City
- three days spent around the Lago de Atitlan. We stayed in Panajachel, and saw the markets of Solola and Chichicastenango. Solola's market was quite a show of colours. It was full of locals in their traditional dress. A real typical
market. The market in Chichicastenango was also interesting but much less authentic. It is already becoming more of a tourist market with over half the stalls selling handicrafts. But it was interesting none the less, it's always suprising to see people walking around with pigs under their arms like it's usual business!
-we spent two full days in Semuc Champey. We had a bad experience with one of the hotels and quickly went to the only other available one there. Things went much better after that. It definitly is a very relaxing place to be. The hotel is in the middle of nowhere. The first day we went to visit a cave, well in fact we followed an underground river... which meant being waist-deep in the river and sometimes having to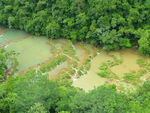 swim, with a candle in one hand in order to see something in the pitch dark cave. The cave in itself is not very interesting, but it was more for the adventure of swimming up stream in a cave :) The next day we went to the actual park of Semuc Champey, to have a swim in the natural swimming pools. Very classy! The only down part was that it had poured the night before, so the water was not as clear blue as it usually is. Still though, it really was a sight!
-Next stop was Sayaxche. Our bus driver looked at us a little funny and asked us why we wanted to stop in a hole like Sayaxche but we were determined to see the ruins of Aguateca and Ceibal. And absolutely no regrets there! We rented a motor boat for a day, left around half past six and arrived in Aguateca a little before 8. The site was completely empty of any visitors. The ruins are still quite deeply covered in moss and overgrown trees but they are beautiful. There were some very well kept stelaes. We spent a little over two hours on site. After a stopof in Sayaxche for lunch we went to Ceibal. Once again, a little over an hour by boat to get there. Once on the spot, we had to
climb up a good half hour to get to the ruins. The walk up wasn't so bad but the mosquitoes!!! There was an army of them. If we stopped walking we could hear the humming of hundreds of them around us. And the repellent wasn't doing any good. When we got to the entrance of the ruins we asked the keepers if we could rent their remedy. They gladly gave us a bucket full of burning coal covered with the stone of some fruit (i'd love to remember it's name), smoking heavily. God-send! It worked a charm, no more mosquitoes... ok we inhaled a lot of horrible smoke and our clothes stank afterwards but it was definitly worth it. As for the ruins, not as impressive as Aguateca unfortunately since all the money supposedly invested by the government for uncovering the ruins keeps disapearing mysteriously. As the keepers said "there are a lot of magicians in Guatemala!". Archeologists know that the site is huge but only a few ruins have been cleared and can be seen. In any case it was a great day!
- It ended as a great day but I have to mention that it started like a nightmare. It had rained a lot the night before and when I got up that morning (around 5:30, already that's a bad start) the floor of our room was completely wet... and we had left all our stuff on the floor. The rain had come in under the door and a lot of our clothes were wet, our books were drenched! We were very lucky though, we had put our laptop and our cameras on a chair so they were saved.
-Finally we made it to El Remate, the closest town to Tikal. We visited Tikal yesterday, from 7am to noon. By 10:30 it was already getting to hot to walk around but we stood strong! The site is absolutely enormous. I though Macchu Pichu was big but this is much more. The temples stand so tall and the carvings so detailed. It was a real treat.
.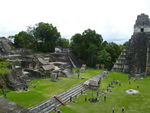 .