20 septembre 2010
I'll start with our van since in my last post I promised that I'd put up some photos.
We went shopping to buy all the stuff we would need for living on the road: cutlery, pots and pans, camping stove, solar shower, jerrycan of water and petrol, dry foods etc.
So here is our beautiful van as we bought it :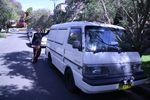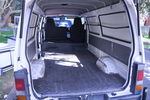 Here it is packed with stuff and wood after our shopping spree :
Here you can see me working hard to build our fold-out bed :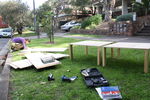 and in the next two photos you can see the van all finished with bed and curtains. You can see it with the bed folded up as a sofa, and once with the bed all out :
Our new couchsurfer lives in Cronulla, about an hour away from the center of Sydney by train. This area is also known as « the shire » because it is an area where white australians (descendants of the British) live. The typical white australian that loves his beer and his barbecue is known as a « bogan ». Here there are quite a few bogans. The guys are all really buff, we see them in the morning practicing boxing and doing sit-ups in the park. Sunday night is really big for going out here, and we went to the bar last night to get a taste of the bogan evening. The girls wear some seriously high heels, short skirts and low cleavages. It's actually worse than some things I've seen in Madrid!
ps- a couple more photos available in the Australia link on the right hand side (under "Photos of the trip")