28 septembre 2010
Wednesday afternoon we finally took the road with our fully equipped van. Headed for Waikerie as we knew there were some orange picking jobs open and we had to get there fast before they ran out. After few hours of driving and with the sun having set, we decided it was time for a rest and stopped in the first rest area by the road that we found. We pulled out the bed and spent our first night. I did not get much sleep, a little freaked out of sleeping alone in the rest area. But all went well, and the next morning we headed off again. We finally stopped in Mildura, about one hour away from our destination and at the job center we were told that all the orange picking jobs were taken. So very disappointed we went to the closest camp site: King billabong reserve. We parked by the river and ended up settling there for four days.
I have to admit this was my first real time camping. I got to light my first camp fire and roast my marshmallows over it. We even grilled ourselves some kangaroo steaks. I loved it: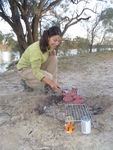 On our second day we even spotted two kangaroos. I still claim we had already seen our first kangaroo during the drive, but Thomas insist that the dead carcass looked more like a dog. In any ways, I am very happy to have seen a living one :)
We had some beautiful evening with the sky full of stars and a big full moon
and i got to test our solar shower, filling it up with nice dusty river water then having my shower by the side of the van
Now I am very happy to say that we have found work. Tomorrow we start wheat thinning (?) for one or two weeks. I will send an update as soon as we know what this consists of.
This message live to you from our van...