12 octobre 2010
After our three days work in Victoria we decided that we would have more luck finding work in Queensland... which is up North of Sydney :s
We called up the national harvest line and managed to get a grape picking job up in Queensland. So we hopped in the car and drove off... 2000 km !
On our first day of the road trip, we took only track roads. It was pretty tough and after driving 9 hours, we had travelled only 500 kms ! We actually lost 100 kms at the end as well because the road we took was flooded. And I don't mean it was a deep puddle, I mean the road litteraly drove right into a lake ! We should have taken a photo, but on the moment we were so depressed to have lost 100 kms that we just got back in the car and drove away thinking « this never happened, this never happened ».
But we were really pleased at the end of the day because we got to see emus running along, kangaroos hopping across the road and weird lizard type things.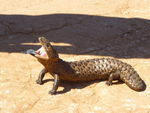 It was an interesting experience to drive through the outback. The terrible thing is how the red sand somehow manages to find its way into your car.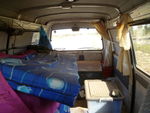 The first time I turned around and looked at the back of our van I panicked. The whole van was covered in thick red dust. I thought we'd never get it out ! It was also really impressive to see how some people really live away from anything at all and have to drive kms on track roads to get home !
We arrived to our new farm on wednesday and on thursday we took everything out of the van and gave it a gooooood wash. I started out with a sponge but then Thomas had the good idea to just go and throw a couple of buckets of water in the back and that cleaned all the dust right out ! So now our van is all spick and span and it feels great !
Work was supposed to start on monday morning but we woke up to rain so no picking when the grapes are wet ! Eventually the rain stopped and the boys went to work. The boys are in the field picking grapes while the girls stay in the shed and the shade to pack the grapes. We have to cut off the bad grapes and put them into boxes of no more than 5.2 kg and no less than 5.1 kg.
The farm is equipped for casual workers so we've got a kitchen with two fridges, a couple of tables and chairs and a tv.