11 novembre 2010
The work was coming to an end at Charters Towers, so we decided it was time to look for another job in order to jump from this one to the next. It turned out that one of the couples working with us had a job lined up but that they weren't going to take, since they were going back home. So we called up and we were able to take their place!
So after four full weeks of grape picking/packing, we said our goodbyes to our workmates and hit the road again. Only 1000 km to cover this time!
We left on saturday morning, expecting the job to start on wednesday, which gave us more than enough time. On Sunday we went to Carnavaron Park. We were hopping to arrive there early in order to spend the day there and go for a walk. We ended up arriving around half eleven! Not a good time to start a walk, in full miday heat, but hey we only that one day so we did it anyway. We did a walk of about 4.5 hours. We saw our first aboriginal art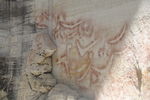 , which I must admit was a little disapointing! I guess we expected a little more variations in their stensils, but it was interesting all the same. Anyways, we saw lots of weird bugs and birds as usual, and we also crossed the path of a small walabi. We were able to get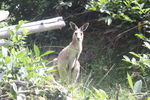 quite close to him and take about a million photos. It was great :D There was no camping allowed in the park so we drove just outside the park limits and parked the van under some trees.
We arrived at our destination on Monday afternoon. We are now in St George, about 300 km east of Brisbane. I will be packing rockmelons. Thomas will also be working in the shed, though not packing. Probably just lifting and carrying the packed rockmelons! The work was supposed to start on wednesday but has been delayed because of the weather. Since we had nothing to do we were able to get a spot onion picking on Wednesday. It was really good! Ok it's really hot cos you're out in the field, but it's not that tiring cos you're actually sitting down the whole time! You just plonk yourself in an alley, pull out 3/4 onions at a time, then cut the roots and the leaves and dump them in a basket. Once you've filled 4/5 baskets, you go empty them in your bin and then sit back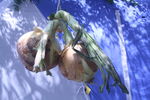 down in your alley and start over again! One bin is 500 kilos. Thomas and I filled up 2 in 4 hours and then we went home. It was enough to pay for our accomodation for the week.
Today we get our induction training for the melons, and hopefully work will start tomorrow.
We are not sleeping on the farm, because they only offer accomodation for people who don't have sleeping arrangements. Since we have the van, we have to sleep on a sister farm. It's a very different atmosphere from Charters Towers. We're in the middle of the fields, there are a couple of spots to park vans and a couple of accomodations for people without transportation. There are showers, toilets and a kitchen, like in Charters Towers... but it feels much more "industrial". There are about 40 people, everyone with different working hours. Some work during the night and come back in the early hours of the morning, others work day shifts. It's early days yet, we'll see how it goes.
Our big preocupation these days was our car registration that we had to renew. It was a little complicated since our car is registered in NSW and we are currently in Queensland. Thankfully St George is just 100km from the border with NSW. So we drove to the border on Tuesday and got everything sorted out. So all is good, our registration has been renewed!