06 février 2011
Since Thursday we have left Melbourne, heading towards Adelaide via the Great Ocean Road. It's a great drive, with beautiful views of the coast.
Just to drop a few names : Great Otway national park (did some ziplining there, thank you family for a great smartbox!), twelve apostles marine park (see photo above), stevenson falls...
We've had our first car troubles :) Not too serious (I think!)... Basically every morning our battery is flat and we need someone to jump start us. We didn't have jump cables at first so we had to wait for the right car to come along. Before we hit the Great Ocean Road we decided to invest in some jump cables, that way any car that comes our way could get us going. But this morning, we hit an all time battery low. We tried to jump start the car with two different cars but nothing. Luckily we met this very friendly guy who had much better quality jump cables and was able to jump start us :D Yay! But our battery is so dead that no matter how far we drive, it's just not charging up again.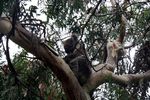 So today's sight seeing was done in turns. One in the car, keeping the motor running while the other jogs to the view point, snaps and shot and comes running back to the car :D We stalled the car once, so I had to push the car down a slope while Tom tried to turn the engine on (except I didn't help much because once the car started rolling slowly down the hill, instead of keeping on pushing so that the engine would start as quickly as possible, I started to run alongside the car... while Tom looked at me, bewildered. ooops)
Anywho, we're in Warrnambool now, it's Sunday, so no mechanics open. But tomorrow first thing, we're getting a new battery. Promise! Ooh and we're in a real caravan park tonight, so power to recharge computer and camera, laundry and HOT shower!!