19 février 2011
We finished the crossing of Australia under the rain! Turns out a cyclone was forming above Darwin, just as we were arriving. So unfortunately the visits we wanted to do on the last two days of the road trip had to be cancelled - no Litchfield National Park and no Katherine gorge.
But let's go back a little. Last I wrote, we were heading to Uluru (Ayer's Rock). We headed off for Uluru in the morning, and expected to arrive early afternoon. About 100km before getting there, a car coming from the other direction flagged us down. We stopped and out of the car came a backpacker with two tickets for the National Park. They are valid for three days, they had bought them that morning and were leaving already. Did we want to buy them at half price? Sure! but all we had was some loose change... so we gave her everything we had and she handed the tickets. We got the tickets for 1/4 of the price! That's some good karma!
Anywho, we arrived at Uluru early afternoon as planned and started our visit with Kata Tutja. Much less known than Uluru, but in the same national park and just as impressive, if not a little more pretty. We followed the walking track to the two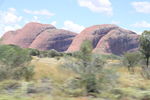 view points... sweating a lot along the way! bad idea to do a walk at 3 in the afternoon in the center of australia! We met a japanese couple on the walk. They had arrived from Japan that morning! They were in australia only for a long weekend, going back 2 days later! Crazy!
Next we went to park in front of Uluru, to wait for the sunset... said to be magical. Unfortunately it got quite cloudy just before the sunset and the sun was hidden behind layers of clouds, hiding any strong red colours. But it was a pretty sight anyway. We left quite quickly after that,
because it was getting dark and we needed to drive 30km to the closest campsite. The rare times we drive at night, we always drive really slowly for fear of hitting a kangaroo or other. We didn't see any kangaroos this time, but we did see a heard of wild camels!!! I wish I could post a photo but it was so dark and they were afraid of me so I couldnt get close enough to blind them with my flash.
The next day we moved on to Kings Canyon. Beautiful, gorgeous, lovely, impressive. We loved it. Once again, we arrived early afternoon. We had the choice between a 3 hour walk along the top rim of the canyon or a half hour walk inside the canyon. I was sweating just standing still so we started with the half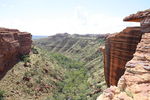 hour walk inside the canyon. Great choice! It was much cooler inside the canyon, with lots of shade and a little stream running along. We rested there for a good 2 hours with our feet in the water. After that, we were ready to take on the top rim walk. Although the sun was still up high,
it had cooled down quite a bit already. We filled up our bottles of water and I soaked a towel that I put on my shoulders to keep fresh. The first bit of the walk was the most difficult cos you have to climb up all the way to the top. After that, it's just all pretty much straight. The landscape was really interesting. It was a great walk.
Next and last visit was "the devils marbles".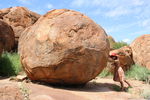 Interesting rock formation due to erosion. We couldn't do much after that since, as I said, we were headed to the rain and wind. We stopped in the town of Katherine, to the information center and they told us that the Litchfield National Park was open despite the rain so we decided to head there. A little before getting to the national park, the road was flooded, about 40 cm. we drove carefully and just about got through. But once we arrived at the entrance of the national park there was a sign saying "No entrance, road flooded" and a car driving out told us that there was over a meter of water on the road. Since the rain was showing no sign of stopping we decided to drive back as soon as possible before the water on the road we crossed before rose and we got stuck. By the time we got back to that point, there was already a good 10 cm more on the road, but we got through and drove on to Darwin.
It's in Darwin that we found out that there was a cyclone right on top of us. We headed to a shopping mall's underground carpark. We read in the newspaper that this carpark was used as a shelter during cyclones. We also spoke to the police who explained that the shelter was only opened when cyclones were in category 2 or above and that this one was only a category 1. But, they were expecting it to become a 2 overnight, so they allowed us to stay in the parking lot. They shut down the shopping center at 4 pm. So we found ourselves locked in the parking lot at 4 pm, all alone! The shopping mall security gards were very nice and gave us their number in case we needed the loo. We took out our table and chairs and got comfy. It was the weirdest place we've camped yet!
We added some photos of Australia on Picasa, click on the link on the right side of the page to see them!