03 juillet 2011
After these three intense days we headed back to Thailand and decided to go straight back up north. Which meant a journey of over 24 hours. We took the bus from Siem Reap to Bangkok (leaving at 8 am, arriving at 7 pm), then from Bangkok to Chiang Mai (9pm to 6am the next day) then from Chiang Mai to Pai (7am to 11am). Congratulations to the in-laws who made it without a complaint and without even being tired! I was worse off than they were, on the third day of our visiting Angkor I took a 5-hour long nap and after arriving in Pai the same.
In Pai, we rented some motorbikes and took a ride around the countryside. We stopped to get an elephant ride. The in-laws chose to sit on a seat placed on the elephant's back while Thomas and I decided to ride directly on the elephants back. Not a comfy choice! It's pretty scary at first but you get used to it after a while. It got comfier after I moved up to sit directly on the elephant's neck (!! and at one point our guide was actually seated right on the elephant's head!).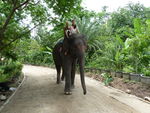 We went to the river and the elephant bathed and of course the guide ordered the elephant to shake about as much as possible until we fell off despite clutching on to his ears for dear life! It was good fun. The elephants are really docile and very very friendly.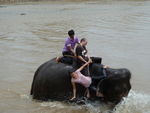 We then did a one-day stop in Chiang Mai, just so they could get a feel of the town. We had a delicious dinner in a stall on the side of the road. The next day, ie - Saturday, we had decided we would get a bus to Lampang, only about an hour south. But, the national elections were the next day and aboslutely EVERYONE was getting on a bus back to their home town to go vote. So almost all the buses were fully booked until that evening. Lampang being one of the impossible destinations, we made the decision to skip that stop and head straight for Sukothai. We managed to get the last 4 seats on the next bus out.
Six hours later we were in Sukothai, we found ourselves a nice hotel with little bungalows and rested. Today, election day, we went to see the ruins of old Sukothai... by bike!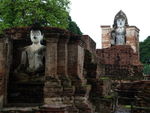 It was a very pleasant experience. Getting lunch in the afternoon was not as fun it being sunday and election day pretty much everything was closed. But a little road stall saved the day and we were able to munch on some fried chicken.