15 novembre 2011
I'm a little late... but yes, the end of the trip has come.
We arrived back in Europe, in Brussels to be precise, on the 28th of October. We suprised our family, who were only expecting us back beginning of December.
We have had an amazing two (almost) years and we bring back with us hundreds of memories (and photos!). We can't describe what it feels like or how much we've grown. We want to thank everyone we met along the way and who participated in making our trip unforgettable. Thank you for your generosity and kindness. We can only hope that we will one day be able to return the favor.
23 octobre 2011
15 years after I left Japan and said goodbye to my nanny... we met again in her home country, the Philippines, and I got to meet her beautiful daughter. I never thought we would meet again but I have to say that this is thanks to social networks! It was great to see her again, although unfortunately she showed some pretty awful photos from my childhood to my boyfriend!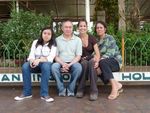 We are now in Kuala Lumpur (again - only the 3rd time during this trip!), enjoying indian food and maybe doing a little shopping...
29 septembre 2011
Ooops... you get settled somewhere and then you just forget to update people!
Thomas and I changed our plans yet again! After a few days in Sabang, we decided that we liked it here and we got the opportunity for Thomas to do his divemaster course, so... we decided to stay here for 4 weeks! We've rented a little bungalow by the beach and moved in. Since then, Thomas and I have been diving practically everyday. I did my advanced open water course, which allows me to dive up to 40 meters deep - though we generally dive to 30 meters max. And Thomas is doing his dive master course, which means a lot of reading, theoretical and practical work. He's loving it though. The other day we went out diving just the two of us, it was great fun and so freeing to be able to go at our own pace without following a guide or keeping up with a group.
We had Christmas early here. Our neighbour literally just gave us his underwater camera casing! So now we can take our camera along when we go diving. But we still have a lot to learn about taking photos underwater. It's not as easy at it sounds!
12 septembre 2011
So far, so good! The immigration police was very friendly although they couldn't give us a visa of more than 21 days, they were able to tell us that there was an immigration office in the town where we were heading that could do this for us.
We took a bus to Manila and then hopped right on to another one heading for Batangas. We were very impressed that the bus offered free wifi on board! (Which allowed us to send a quick message home to confirm that we had landed safely.) The trip wasn't over until we took a boat over to Mindoro Island, where we found ourselves a little hotel to rest after a long day.
Everyone is smily and very helpful and it makes things so easy that everyone understands and speaks English. I'm very impressed!
Only two down points so far but nothing that has tarnished the Philippines' reputation in my books yet.
we were drastically overcharged for a ride in a tricycle (a motorbike with a side car. It was my first side-car ride. I loved it!). We payed 150 P in one direction (ok so that's only 2.5 euros) but realised our mistake when we payed only 60P on the way back! (1 euro)

On the bus to Batanga we were getting a little hungry so when a man stepped in with a tray of hamburgers we were chuffed. They looked a little small so we bought four. After opening the wrappers though, I realised that we had been a little naive in expecting a real hamburger like pictured on the wrapper for only 10P per hamburger (ie – 15 cents). See pic below. We got a good laugh out of it though and in any case it did the job of filling up our empty stomachs until we arrived at our destination.
10 septembre 2011
During our "rest" time in Lao we suddenly decided that it was just silly to go back to countries we had already been to in Asia and it was time to go on discovering. And so, we bought tickets for the Philippines! The flight we booked was leaving on the 11th of September from Kuala Lumpur which meant we had about 2 weeks to get to Malaysia.
So we left Lao for Thailand. After a quick stop in Bangkok we kept heading south and stopped in Koh Tao. We spent a few days there to enjoy the beach and the sea.
We arrived in Kuala Lumpur on the 9th of September and tomorrow morning we head to the Philippines.
26 août 2011
After resting a few, too many, days in Hanoi. We moved on south to Hue and then to Hoi An. We visited the old citadelle of Hue, which disapointed us a little. The chinese influence is quite strong and we're not very big fans.
The old city of Hoi An was very beautiful, with a clear european colony influence. Little houses, painted in yellow, trees in the streets, flowers everywhere. Absolutely charming, but once again it's a shame that the whole town has sold its soul to tourism. 90% of buildings are shops, of which 85% are tailors that make copies of any european-style clothe you desire. The rest are shoe shops, jewelry shops and souvenir shops. Fill up the rest with restaurants.
After this we decided that we had had enough of Vietnam and that it was time to move on back to Lao. We took a day bus to cross the border over to Savanakhet. What a contrast, no more horns blowing, smiles on people's faces. Yup, we definitely prefer Lao. And since we are lazy buggers, we decided to go back to the four thousand islands, down south, and take a few days to rest in a bungalow by the mekong river. We got here yesterday afternoon, and this morning we woke to the sound of the bell around a buffalo's neck. It is attached to a tree right next to our bungalow, munching away on grass. And I am typing this away on the balcony of our bungalow looking at the mekong river.
12 août 2011
We've set our base in Hanoi for the past ten days. We spend a few days visiting with my dad (the mausoleum of Ho Chi Minh, the litterature palace, the ethnography museum, the old quarter...) We spend a day in Halong Bay.
My dad left on the 5th and on the same day we picked up Julia, a cousin of Thomas. She stayed with us for one week. We had a busy week with one day of visiting in Hanoi, two days and one night in Halong bay, two days and one night in Sapa.
Having done Halong Bay twice, once in a one-day tour and one in a two-day tour, I have to say the two-day tour is definitely more worth it. In one day, from Hanoi, is just too rushed and you spend most of your day in the bus driving to and from Halong Bay. In two days, you get much more time on the boat and the boat takes you much further away from the coast so that you can really take in all the beauty.
The quick trip to Sapa was good fun and the landscapes are definitely beautiful but what a shame about the absolute tourist trash it is! The traditional villagers have become money-hungry beggars. They follow tourists around shoving manufactured goods in their faces, when you walk to their village they follow you then ask you for money claiming they have been your guide, the children beg for candy and anything you might be carrying, some even blocked the path hoping we would give in! It's just awfully sad. The dark side of tourism.
Having spent more time in Vietnam I have to come back on some of the things I said in my previous post. We had been warned that vietnamese people were quite rough and rude and we had been really suprised to see that they were actually quite smily and nice when we arrived. However, this is obviously only in the area between the Lao border, Dien Bien Phu and Mai Chau. Indeed, this is an area where there a much much fewer tourists and people there are quite nice. But once you get to Sapa, Hanoi, Halong Bay there is a change. Already it is not in their culture to smile or to look at people when talking to them, which is already a culture shock for us europeans. But on top of that they are damn right rude when they don't get their way. In all of asia foreigners will pay a little more than locals, and I understand that, but here in Vietnam, prices will be tripled or quadrupled and when you try to negotiate they shut down completely and practically throw you out of their shop! It's very tiring after a while!
In any case, there are some of the most beautiful landscapes we have seen in Asia and there is some good food.
We are still musing over what we are going to do next but the idea is to make the most of the rest of our visa for Vietnam and to head down south to see Hue, Hoi An and Ho Chi Minh city (aka Saigon)
02 août 2011
On the 29th we crossed the border into Vietnam.
We have had some pretty bad reviews of Vietnam, both from people we've met during our travels, but also from our guide book (the Lonely Planet really puts you off from going to Vietnam!!). So we had pretty much braced ourselves for some very unfriendly people.
And yet, not at all! Sure, they're a bit rough in the way they express themselves sometimes but other than that, so far, we've found people to be very friendly and patient. That is, until Hanoi... that's a bit of a different story. In any case, outside of Hanoi people are lovely.
And the landscapes have also been a revelation. We arrived in Dien Bien Phu and spent the trip with our noses stuck to the bus window.
We are now in Hanoi. We've stopped in a little village called Mai Chau on the way, where we walked around the villages and the rice fields despite the rain.
In terms of food, we have yet to be charmed. We've already eaten a lot of Pho (noodle soup) and a few nems.
Runnning so late on the blog! But to be honest, we have spent quite a few days in areas without internet.
We stayed two days in Luang Prabang. My dad and I took a short cooking class one evening where we tasted pork laap: gorgeous! We went to see the morning ceremony where the monks walk through the town and the locals offer them food. It is an old and important ceremony as the monks rely on these offerings for eating. I got a little frustrated and annoyed by the VERY irrespectful tourists. There are posters all over the town explaining that this ceremony is sacred and should be respected and there are some short simple rules explained:
If you just wish to watch-
1 - Stand at a distance from the ceremony (preferably on the other side of the road) and if you take photos, dont use the flash
If you wish to participate-
1- Dress appropriately (ie-cover shoulders and legs)
2- Dont take photos or get your friends to take photos of you
Seem pretty straightforward to me. And yet, flashes were going off everywhere, tourists participating in the ceremony were too busy taking photos (with flash) to give out the food they had brought. All the girls were wearing shorts and strap tops. I couldn't help but wonder if all these people had been blind enough to miss all the posters or had simply deliberately decided to ignore the rules.
Anyway, we left Luang Prabang to go further North to Udomxai. Road to get there was hellish, potholes everywhere. It was like being on a rollercoaster. It poured down rain as well, so that when we got there our bags were soaked. First thing we did when we arrived at the hotel was to hang up all our clothes to dry. We rented motorbikes and went for a drive around the town. The scenery was just beautiful and we drove through some tiny villages where people still live in wooden shacks.
We then moved East, towards the border with Vietnam. We spent one night in Muang La and one night in Muang Kuah, two small villages along the way. We had bought some children's books in Lao from an NGO called "Big Brother Mouse" and handed them out to the kids in the village.
21 juillet 2011
Picked up my dad in Vientiane, no problem. For his first afternoon in Laos, we took him to a little retreat (despite being in town, we were in the middle of the forest) in a little bamboo house with a home-made sauna, then got a one-hour Lao-style massage.
We spent another day in Vientiane, cycling around to see the sights, eating at the market. Then we took a day bus to go North to Luang Prabang. It was a loooooong bus ride: 350 km in 11 hours. We've mainly been travelling by night these days so I found the bus ride quite long, especially since we were driving so slowly and stopping so often. But the landscape was absolutely stunning. Gorgeous mountains lost in the clouds and the mist. It was definitely worth it.
We arrived in Luang Prabang yesterday evening and today we walked around, already saw a couple of the sights (the royal palace museum - STUNNING). My dad and I signed up to a little cooking class tomorrow night. I reckon there's probably gona be some shopping done at the night market tonight :D