21 mai 2010
What can I say about Las Vegas? The city where everything is just too much!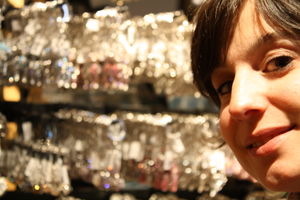 We took a greyhound bus to get to Vegas. We had booked a room at the Imperial Palace. We had a suite with a "luv tub", we werent sure what that meant. That meant we had a huge oval tub in our room... not in the bathroom, directly in our room! There were mirrors around the tub and on the ceiling on top of the tub and of course, on the ceiling on top of the bed! Our hotel had a swimming pool but we didnt get a chance to use it. We did so much walking around. We went to all the "big" hotels: MGM, Bellagio, Venetian, Flamingos, Luxor, New York New York. Inside the Venetian they have a replica of italian streets with a little river and gondolas. It seems like its daylight in there all night long! The facade of New York New York looks like the streets of New York, there are like 5-6 new york buildings, its amazing. Inside, so many slot machines and people playing all night long and all day long (even at 7am). We played once, on a 1cent machine. Basically you put in a dollar and you get 100 credits. We won 1.25 the first time round and then we lost 2 dollars. So in the end, we lost 75 cents. We should have stopped after winning the first time around!
There are a million shops, mainly Dior, Dolce and Gabbanna and all the other likes. But also a coca cola store and an M&Ms store. The M&Ms store has 4 floors! They have M&Ms socks, tshirts, mugs, earrings, bracelets, cufflinks, stickers, bed sheets, straws, stuffed toys, baseballs, footballs, monopoly etc... it just goes on and on and on!
Being in Vegas, we HAD to go see a show. We decided that the Chippendales show was the most appropriate. It was my first chippendales show. Very very funny. They dressed up as street workers, firemen, navymen etc... but they didn't even do the full monty!
So Vegas, crazy city with a million things to do. But it's kind of like being in a huge disneyland, everything is so fake. And it's an environmental disaster! It kind of got sickening to see so many neon lights and everyone just spending spending spending, on food, on drinks, on silly souvenirs etc...